Chinese New Year Set Menus
Fortune Palace Set Menus & Á La Carte Specials
Executive Chef and talented culinary team at the award-winning Fortune Palace create a range of exquisite dishes highlighting the best of Chinese cuisine to relish during Lunar New Year festivities.
The Auspicious Menu for a table of 10 is a feast priced at $488. The menu features Chinese New Year special dishes like Double-boiled Fish Maw Soup with Dried Oysters and Black Moss, Crispy-fried Sea Bass with Assam Sauce, Stir-fried Tiger Prawns with Special Soy Sauce and more.
The Prosperity Menu for a table of 10 is even more opulent delights, priced at $688. Enjoy Steamed Tiger Grouper and Sweet Turnip in Special Soy Sauce, Crispy Pigeon in Plum Sauce, Stir-Fried Mekong Lobsters with Curry Sauce Fortune Palace Fried Rice in Lotus Leaf and more.
To mark the festive season in extra style, you can also order some Á La Carte Specials from $16. Toss your way to prosperity with the Prosperity Yee Sang, with choice of Top Shell or Rainbow Salmon toppings. Make sure to toss the ingredients high together while chanting auspicious phrases to usher in blessings of abundance and wealth throughout the year!
Book your table now by calling +855 15 402 345 or emailing dining@nagaworld.com.
Opening hours: 11am – 11pm, daily
Location: Level 1, NagaWorld1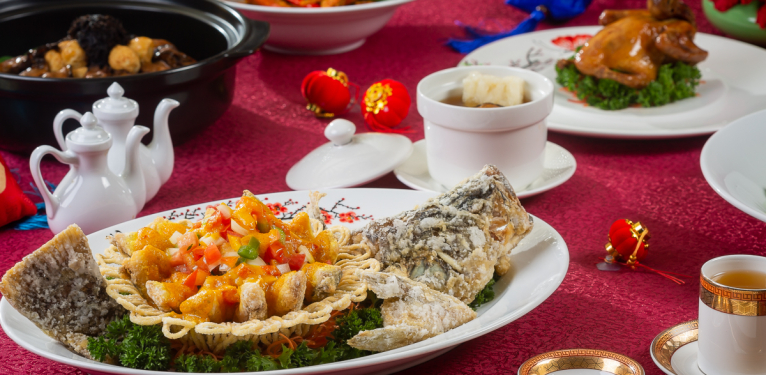 Hall of Golden Chimes Set Menus & Á La Carte Specials
Bring some sparkling extravagance to your joyous reunion meals this Spring Festival at Hall of Golden Chimes! The lavish setting of this award-winning Chinese restaurant is the perfect match for a truly exceptional feast with your loved ones.
The Treasure Set is an 8-course menu to cherish for tables of 8-10, priced at $498, with impeccable delicacies including Double-boiled Pork Loin Soup with Ginseng and Herbs, BBQ Trio Platter,
Braised Pork Knuckle with Shitake Mushrooms & Black Moss in Brown Sauce, Steamed Marble Goby Fish in Chef's Signature sauce, Poached Seasonal Vegetables in Superior Jade Melon Stock and more.
The ultimate in luxurious Lunar New Year dining can be savoured with the Prosperity Set at $788. Indulge in a 10-course banquet of premium dishes such as Double-boiled Free Range Chicken Soup with Cordyceps Flower, Peking Duck with Chinese Pancake and Hoi Sin Sauce, Roasted Beef Short Ribs with Kampot Pepper Sauce and more.
Elevate your Chinese New Year celebrations with incredible Á La Carte Specials from $20. The highly-popular festive dish Prosperity Yee Sang is available with fresh topping choices including Australian Lobster, South African Abalone, Salmon, and Shredded Chicken. Diners are invited to toss the auspicious ingredients high into the air with long chopsticks while chanting traditional phrases to be blessed with riches throughout the year. There's also the Spring Festival classic, Treasure Pot "Poon Choi", a casserole of premium seafood and meats for either 6 or 10 people, as well as more exquisite Chef's creations such as Australian Lobster two ways Sautéed with X.O Sauce OR Steamed with Egg White in Golden Broth.
Book your table now by calling +855 15 402 345 or emailing dining@nagaworld.com.
Opening hours: 11am – 11pm, daily
Location: Level 5, NagaWorld2