Chinese New Year Festivities
Lucky Ox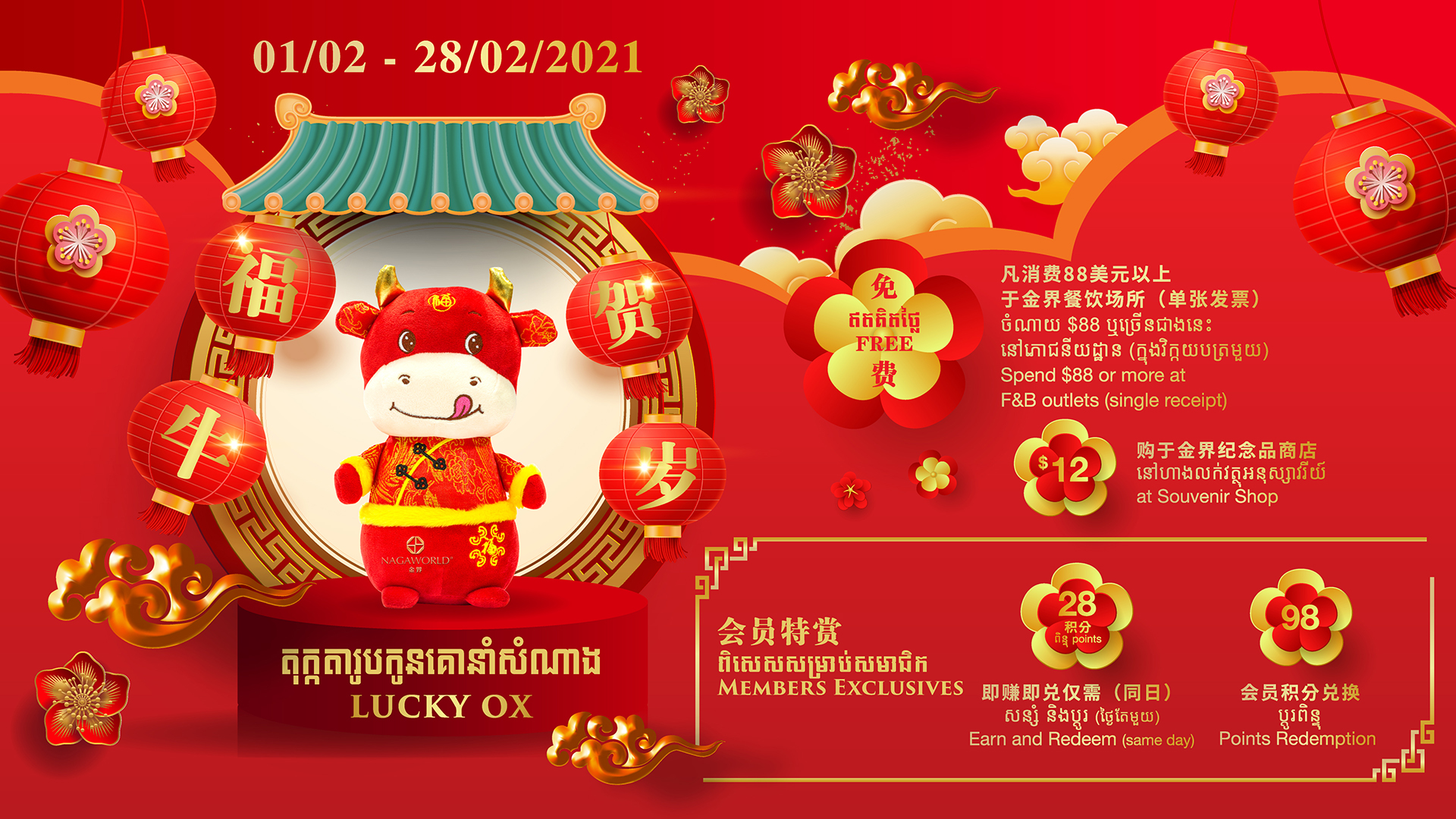 Usher in good health, happiness and prosperity in the auspicious Year of the Ox with a spectacular selection of dining options, delicious goodies, and festive-themed décor and live entertainment at NagaWorld, daily from 1 to 28 February. Join us to celebrate the most anticipated festival of the Chinese calendar. Gong Xi Fa Cai!
Bring home an adorable Lucky Ox plush toy, FREE when you spend $88 or more in a single receipt at NagaWorld's F&B outlets (while stocks last). For members of NagaWorld Rewards, get a cuddly Ox by earning and redeeming 28 points in a single day or by redeeming 98 points. Alternatively, purchase the plush toy at the Souvenir Store (Level 1, NagaWorld1) for $12.
Yee Sang
Spring Festival is a time for joyous reunions with family and friends. Celebrate in exquisite style with a mouth-watering feast at award-winning restaurants Hall of Golden Chimes (Level 5, NagaWorld2) and Fortune Palace (Level 1, NagaWorld1). Yee Sang, the quintessential Chinese New Year appetiser in Southeast Asia, is available at both outlets with fresh topping choices including Norwegian salmon, shredded chicken, top shell, South African abalone and Australian lobster. Diners are invited to toss the premium ingredients high in the air with long chopsticks while chanting auspicious phrases to welcome abundance and wealth throughout the year. It is believed that the higher the toss, the greater the blessings!
Set Menus & A La Carte Specials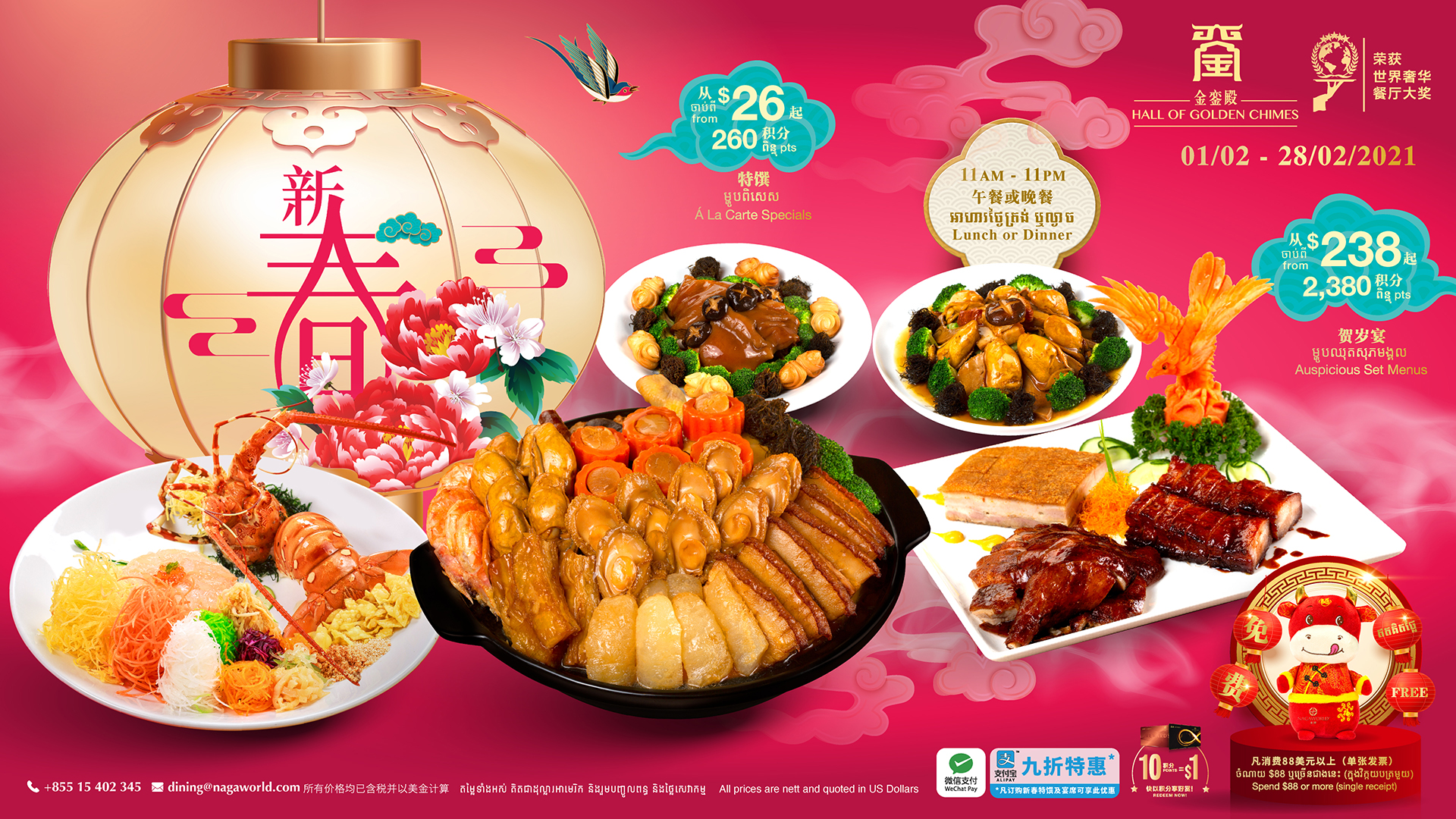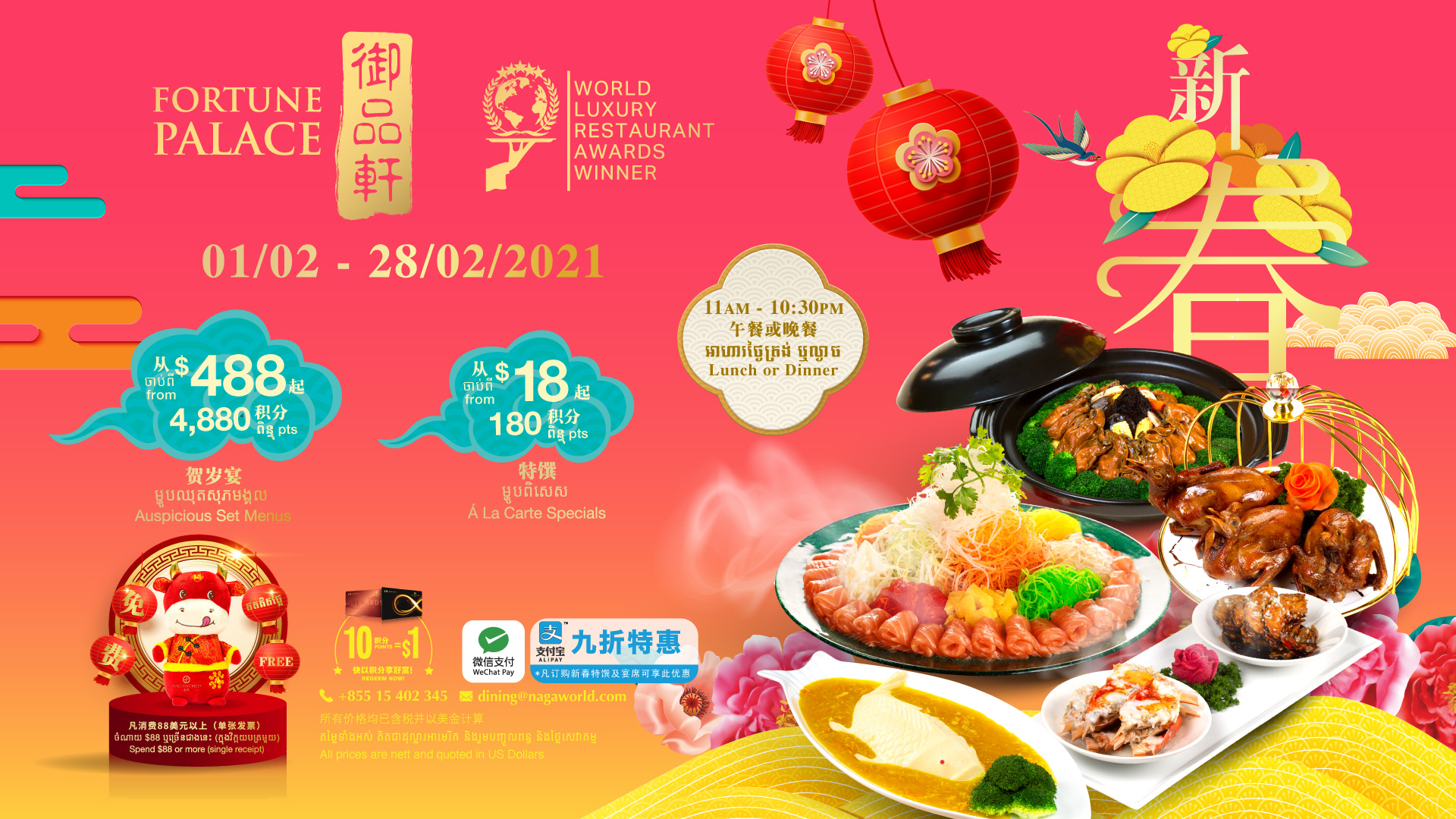 Yee Sang can also be enjoyed as part of lavish Set Menus at the two restaurants, to be savoured by tables of 4, 8 or 10 persons. Ideal for Chinese New Year festivities with relatives, close companions or business acquaintances. The multi-course banquets have been specially curated by Executive Chefs to feature a selection of the very best of Chinese cuisine. These include all-time favourites such as Braised Pork Knuckle with Black Moss, Steamed Tiger Grouper, Crispy Chicken, Braised Dried Oysters, Handmade Longevity Noodles, Seafood Fried Rice and the traditional glutinous rice cake dessert, "Nian Gao". Menus are priced from $238 for 4 persons up to $688 for 10 persons and can be enjoyed for lunch or dinner daily till 26 February. Book your table now by calling +855 15 402 345 or emailing dining@nagaworld.com.
Festive A la Carte Dishes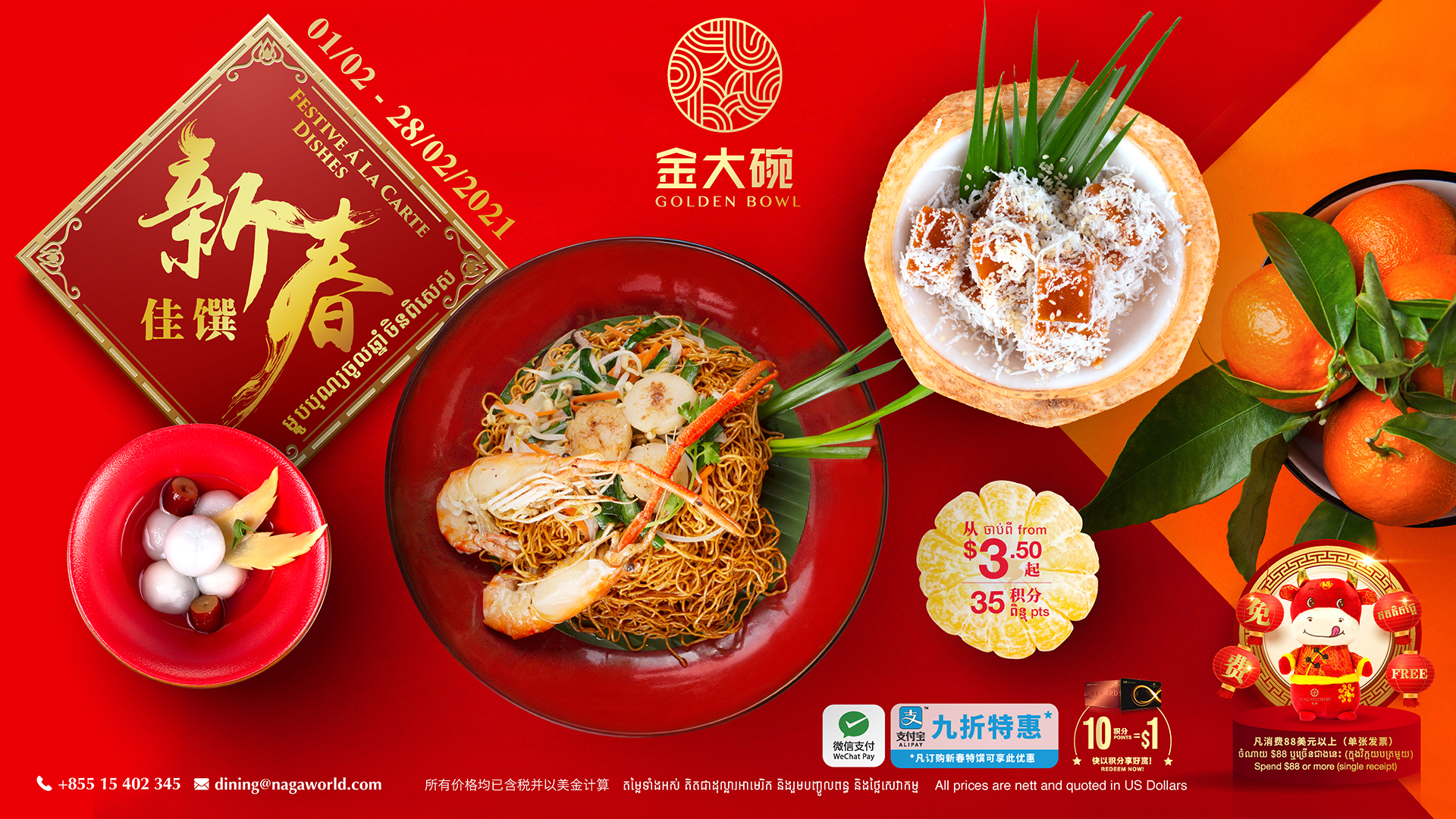 The skilled NagaWorld Chefs have also created an amazing range of festive á la carte dishes to mark the season, available at Hall of Golden Chimes, Fortune Palace, Chopstick (Ground Level, NagaWorld1) and Golden Bowl (Level 1, NagaWorld2) restaurants as well as Food Pavilion dining hall (Lower Ground Level, NagaWorld2). Hall of Golden Chimes is serving the Chinese New Year classic Treasure Pot "Poon Choi", a casserole of premium seafood and meats either for 6 or 10 people, and also opulent options such as Live Boston Lobster braised in Superior Broth. Fortune Palace has supreme dishes like Canadian Spot Prawn Sashimi and Seasonal Vegetables with Korean Dried Oysters and Black Moss. Chopstick has Crispy Noodles with King Prawns and BBQ Duck Leg with Chinese Sausage, Golden Bowl features Double Happiness Longevity Noodles with Mekong Lobster and Steamed Nian Gao with Shaved Coconut, while Food Pavilion offerings include Abalone and Shredded Chicken Hand-pulled Noodle Soup and Braised Pork Belly with Taro. An incredible array of Chinese-style delicacies to relish this Lunar New Year!
Chinese New Year Goodies
Share some festive joy with your loved ones, colleagues and clients by presenting them with handmade goodies or sweet treats, available for purchase from 10am to 10pm daily at Lobby Lounge (Ground Level, NagaWorld1) and Food Pavilion. These include traditional delights like Glutinous Rice Cake Fish, Pineapple Tarts and Crispy Corn Puffs, along with NagaWorld's exclusive creations for this year such as Chocolate Gold Bars, Good Luck Cake, Peach Mousse Cake and Ox Chocolate Cake Pops from just $4.50. The Fortune Box is an auspicious gift option featuring 6 different handmade snacks in an elegantly-designed box for $22.
For more details, click here

Chinese New Year Highlight Show

The vibrant spirit of the Spring Festival is reflected in rousing live entertainment daily at NagaWorld. Don't miss the Chinese New Year Highlight Show, an uplifting performance of favourite festive tunes from an international cast of talented artistes, 6pm daily at NagaWorld1 Lobby Stage till 28 February. Catch appearances from the God of Fortune and Ox mascots and more fun characters too.